Ok, before i go to mug for my 2 remaining deadlines this week, i just thought of sharing my last 2 undergrad projects with all of you. Download them and have fun
Astronomy project - Origin of Life on Earth 
the BIG project - Position-Based routing for MANET 
The first one should be fun reading it! We were trying to find out how life on earth originated…. so did we exactly find the answer? Well, no but i guess as always the journey to finding out the truth makes us open up to new ideas and expand our conscience.  And this is probably more important than finding out the answer. It was great doing this project especially with a new friend found. I'm just so lucky to find her and not some slacker. Thanks rachel!
And the second one is my engineering project, but don't think for once that you cannot understand it. I made my business faculty friends understand it and more importantly, my 7 years old cousin yeah! she understood it! Well, it's not so much about the results and graphs, but the concept itself should interest all of you… bringing internet connectivity via WiMax to the ships without satellites. And this was how i explained it to my cousin…
Imagine you and your friends are in playground - all of you are running around and always changing positions. Well, we call them MANET… mobile ad-hoc network. And now in what way will you pass a ball to your friend and then she passes to another friend until it reaches the corner of the playground? It's as if the ball makes a few hops, PMP… point to multipoint hops. There are many ways to pass the ball and we call them  routing protocols. ok ok… she kinda got the the concept of it all :D
And the result? Look what she gave me before departing… aaawwww…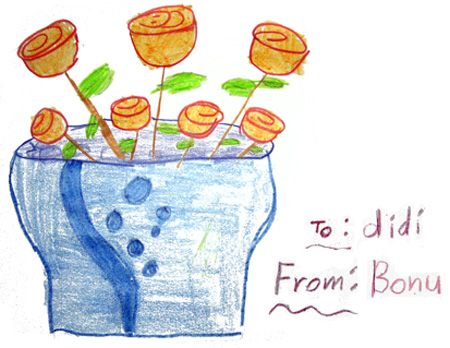 Running for the last deadlines… Sweska, out!