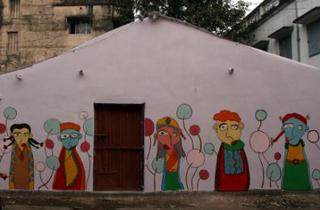 I FINALLY wrote the letters to the kids. I photoshoped our recent group picture and put their individual names and wrote a simple message in English – "Never Give up and Study Hard!" I hope the kids can understand this. Then I attached individual letters to each of them. I realized that my spelling is atrocious!!!!… When was the last time I actually wrote a proper letter?? I think A levels…ha-ha!! Then I was looking at the YEP journal…I realized that my handwriting is also atrocious. They are so squarish and childish…but the kids' handwritings are so beautiful…and classy!
Hope to pass all these to gaya soon and also meet up with rong shen they all to discuss our presents. I wonder how they all are doing… Is Chhotu still NOT going school because he has to work? How's Sarita's leg? Can Tapash afford his Class 12?… How's Arzina's illness?? Can they all continue studying and at least get to college?
My school stress will come SOON…so I had to write these letters NOW. I actually wished them Happy New Year 2006…haha knowing that Gaya will go there in December!
So, I guess I have to wait looooooong to get their replies…patience! Ok back to organizing my lecture notes.