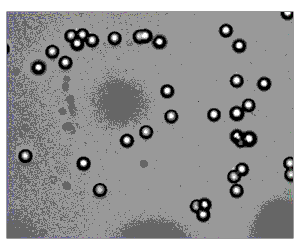 YESTERDAY was FRIDAY!!!…it was my final presentation to the IBN Scientists and the Director…so how did it go??? As i said before, we tested the presentation from our laptop and we did not shut it down and brought it straight to the conference room. All set! 4pm…The directors enter…and jazz and me presented LAST…our Multiple Particle Tracking Project.
This was how it ended…
Me: …and Thank you all for this unique learning experience!
Prof Ying: Ok! Very Good Presentation! …Although it was a bit too long.
Me & Jazz: thanks!
Prof Ying: You speak well…you don't need to raise your voice to project it out.
Me: err… Prof Ying: Sometimes you need this kind of voice to win a Nobel Prize…
Me: ……huh….
Jazz: ……muahahhahahhaha…..hehhehehehe…..hahahahah !!!! (SHUT UP jazz!!!!….but then again the whole room burst out laughing!!)
Prof Ying: Do you sing or something to project your voice?
Me: errr….choir…used to…
Prof Ying: You speak well too ! (to another student) ok Good!…both of you come back for YRP again!
Me and Jazz: yes sure!!….(GRINNING!!!)  
Sigh…so that was the end of our YRP internship at IBN. I'll kind of miss it! This was the first time that i worked for 3 months…my longest job with long hours and yes with my highest pay cheque so far :)
From this 12 weeks of internship I was… - fascinated by the latest cutting edge machines…and of course the techno-architecture of biopolis. I had the chance to play with microscope and spectroscope. - often frustrated to learn that answers cannot come to me as easily as i would want them to come…"no no no…no no no"…uuuuurrrrrggghhhhh!!! ….but then again it reminded me that Man has only discovered so little…. like what Newton said,
I do not know what I may appear to the world; but to myself I seem to have been only like a boy playing on the seashore, and diverting myself in now and then finding a smoother pebble or a prettier shell than ordinary, whilst the great ocean of truth lay all undiscovered before me.
amazed to see the diversity of the researchers and students from different countries…US Germany France, background and universities…NUS, MIT, Imperial, John Hopkins.
simply awed at how crappy and sporty these brainy researchers can be!!
inspired to see 2 women, Prof. Ying and Noreena heading a premier research institute like IBN. Both of them are like best of friends! By the way, Noreena has the SAME BIRTHDAY as me!! This means she's also Aquarius…coincidences in life!
glad that i had a lot of outside life after the working hours. It was as if this internship gave me a glimpse of future work life. The hours were long…but I'm glad that i was able to catch up with sooooo many friends from cedar, jc, genie, davina…and many other. And not to mention those jogging and badminton sessions…
darn…school's gonna start in TWO days!…and I'm gonna miss IBN and the hols…Right now my LAPTOP KEYBOARD IS NOT FUNCTIONING!!!!…so my first day will be spent with Comp Centre. URGH!!!! But then again, it is during these frustrating times that you should look at your life again…yeah I'm really blessed that I have a laptop and those Tollygunge children does not. I'm gonna meet Akriti tomorrow and so memories are flooding back. So, I guess this laptop is not a problem…I'm gonna get it fixed soon.