I'm falling in love with MacRitchie. This time it wasn't a hike around the edges of the water…it was kayaking right in the waters with the lush greenery surrounding you. The water is so clean, the greenery is so serene and you are directly under the sky amidst the sun, the rain and the clouds. I finally completed my One-star kayaking course after 2 days of training together with a strong reminder about nature's powerful and beautiful existence even in the midst of man's creation.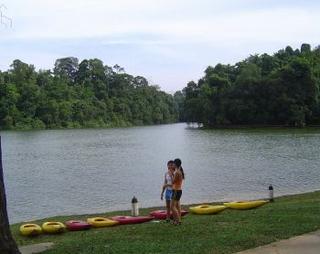 Anyway I also learnt about some theory…what is the difference between a Kayak and a Canoe?? Kayaks are closed in boats with double-ended paddles, while Canoes are open boats with single paddles. I learnt different strokes to maneuver my kayak…Sweep stroke, Stern Rader, back stroke, forward stroke and also how to capsize and rescue! It was definitely an eye-opener and a worthy 2 days spent being sun burnt and returning home with aching arms. And it is especially memorable and exciting when you have a wonderful company to do it with you…**THANK YOU PEIXUAN!! **
So, me and peixuan were planning the next course of action to return back to the nature…2-star kayaking of course!! We are planning to do the 3 day short expedition 2-star kayaking course in early jan 2006. So calling out to friends who have not done the 1-star kayaking course yet and wanna go for kayaking expedition…here's your chance. Listen up!!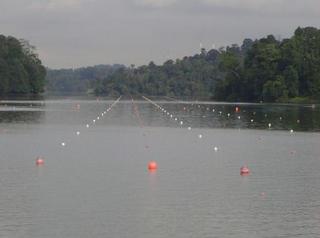 How to do 1-star kayaking course…in MacRitchie Reservoir?? …you'll be rewarded with the scenery! Cost: $40 for students, $55 for non-students Time: in the morning from 830 to 2 or in the afternoon Days: 2 days…Saturday and Sunday Contact: Paddle Lodge in MacRitchie Reservoir…you can go down yourself or sms me to get the person-in-charge's contact!
In the meantime, if you wanna kayak in the weekends call me along! We can explore MacRitchie more. Peixuan and me are really looking forward to more people joining us for the 2-star expedition…like kit and karyn….hehe!!…so let us know :) Feeling so shiok and shag at the same time now…haha!! My dear Engin friends… look out for my TAN and TRICEPS tomorrow!!! ….wooooooo hoooooooooo!!!!!!!!!….what is life without adventures and explorations…battling these tiny waves in the reservoir already gets you reminded that man is just so tiny in the face of the ultimate wilderness…