John Sculley is an American businessman. He was the Vice President and President of Pepsi, before joining Apple as its CEO in 1983. Steve Jobs recruited him to lead marketing strategies for Apple computers.
Before recruiting Sculley,  Jobs is reputed to have asked Sculley
Do you want to spend the rest of your life selling sugared water or do you want a chance to change the world?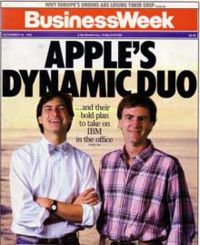 However, in 1985 Jobs quit Apple after sighting apparent differences with the CEO, John Sculley.