I should have probably shared this ages ago. I just love how i can access Google Calendar through both my MacBook and iPhone. I can even add events on the go and it will sync immediately! Very convenient. Both iPhone and Google Calendar can sync to my multiple calendars and that too with colours! Here's how i did that...
1. Go to Google Calendars and select Settings
Choose the calendar -> Private Address -> iCal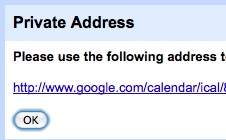 2. Copy the iCal address and carefully change the format...
http://www.google.com/calendar/ical/[email protected]/public/basic.ics https://www.google.com/calendar/dav/[email protected]/user
3. Copy the new url into the iPhone Settings
Mail, Contacts, Calendars -> Add Account -> Others -> Add CalDAV Account
Paste the new url into the Server field and fill up the rest of the fields accordingly. Now, wherever you go, you can add an event from iPhone or laptop and the calendars will always be in sync :D Talk about never forgetting events and appointments!