On Sunday i went to the MacRitchie Tree Top Trail with Karyn…a 10 km hike. A walk filled with photography, physiotherapy, crap jokes, observing the fellow joggers, catching up with each other and most importantly the serenity in the vicinity of nature.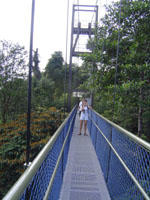 It was great!…and karyn THANK YOU for that. It made me think about friendship a bit. How do people actually meet and become friends?!?! Most of my friends are from same class in cedar or JC, same CCA or same activity like genie or akriti…but Karyn is different. How exactly did i meet her i wonder now… we used to walk to JC together. Then later we studied GP and went swimming together…the driving also! Like any friendship, as years go by, we tend not to meet up with each other that often. But I'm really glad that Karyn initiated this outing…and for this i have MSN and this blog to thank for. Thank you technology!!
As we walked, we talked about various issues. Did I say physiotherapy?? Of course! karyn is a future expert physiotherapist and she was giving me all those muscle and ligament related therapy lectures on how to protect my ever-spraining ankle…haha! The nature trail was serene and nice…we both thought that it would be really an opener to go on nature trails or safaris in Africa or some other exotic places. Yeah pals…we got to save up for great traveling!
So, to all my friends…thank you for being part of my life. This holiday was a great catching up session with so many outings with different groups of friends. As years go on…I wonder how far our friendship will go…but it's just these sudden outings that rekindles everything and we once again start to relive the memories of how we first started. Sometimes, we just need a little bit of effort to meet up…and it returns us with so much more… Keep in touch pals!!
oh btw…any of you want to take the one-star kayaking cert? sms me ok?