it's nostalgic... the way we used to decorate the Christmas tree, prepare rigorously for the special Christmas performance and that year it was the fairy tale... Cinderella. Thank you for putting up with my debut directorship. Our parents were all delighted, but i teared because i thought it was a disaster... the servant had to go to pee when he was about to put the shoe on Cinderella's shoes, the Prince and the Cinderella had to start quarreling on stage because the Prince was counting out the waltz beats so loudly... and Cinderella had to refuse to clean the floor!!! Oh my my.... but now i know better... it was probably my best ever being a director :P
Presenting to you...
The cast of Cinderella
Cinderella : monu
Step Mother : bullu
Step sister: garima
Prince: gaurav
Servant boy: dhiru
Fairy godmother: bubui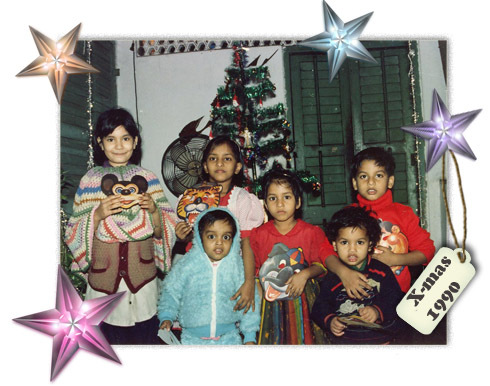 Miss you guys... i dunno where you 5 are, but one day i'll find all of you! and finally to finish it all... a song by the 5 year old me.... enjoy :P
Merry Christmas and happy hols from all the 6 of us!!! Wheeee!!! the hols are right on!! Have a blast guys!