It's a movie!!! And I love it :P Amir Khan never fails to make movie masterpieces and this is surely one of my fav!
Any student or a young adult will be able to relate to this movie. It tells us once again how we should be chasing our strengths and passions and not living a life getting all the grades and then end up getting a high paid, stable job, not knowing what we want! 3 idiots is a very humorous movie and coupled with my fav, Kareena Kapoor and Bollywood style, it did make my weekend a blast :P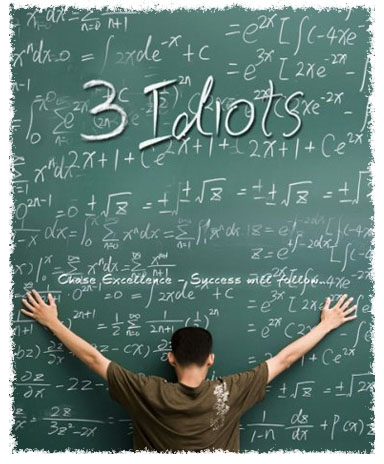 I admit, I used to think that grades would give me money and societal prestige. Yes, it might give us that most of the time… but it does not guarantee that I would be living my life and having fun… you know that?
I wasn't an idiot before. And now I wanna be an idiot.
Stay Hungry, Stay Foolish! ~ Steve Jobs